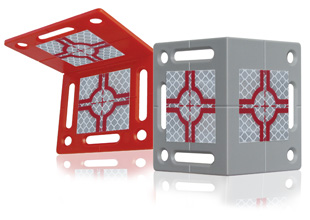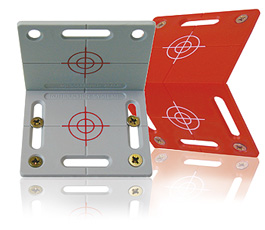 EUR. PAT. NO. 1 310 765
Smart Angle Targets




RS80 & RS90 & RS100
90° angle enables measurements and monitoring to be carried out in difficult surveying locations or where there is a shortage of space
Various attachment options: at "right angles" or "roof-shaped"
For quick positioning with tachymeter and all common measuring instruments
Long-term monitoring of bridges and buildings
For measuring and monitoring façades - even around corners
Transfer of heights and axes around corners and from inside to outside
Can be mounted even on difficult surfaces
Temperature and UV-resistant
Crosshairs are imprinted on the backing plate under the exact centre of the reflective target to ensure the survey point is durably marked. If the reflective target is damaged at any point, it can easily be replaced and the original survey point can be restored quickly, easily and cheaply.
RS80, RS90: The ranges are dependent on the device and can be adversely affected by weather and environmental conditions.
---
Dimensioning file RS80, RS90 and RS100.pdf for download.
Here you find a dimensioning file for each RS product.