Ground Control Targets for Drones




RSL510, RSL512, RSL520 and RSL532
Targets, 350x350 mm
Survey points for use with drones
Can be fixed to the ground with tent pegs
Multifunctional
Waterproofed
Ideal for use up to a height of approx. 100 meters 
Marker visibility is device and weather-dependent
For heights above 100 meters, we recommend the hinged ground markers RSL512XL
The RSL512 and RSL532 ground markes are printed on both sides.
Depending on the background, the lighter or darker side can be used.
Ground 

Control Targets for Drones


RSL570-10, RSL570-20 und RSL570-30
Each plate has an individual marking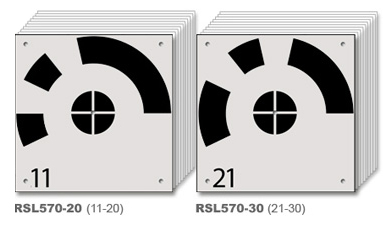 ---
Dimensioning file RSL510.pdf, RSL512.pdf, RSL520.pdf, RSL532.pdf and RSL570.pdf for download.
Here you find a dimensioning file for each RS product.